"Volume precedes price" is an idea with some statistical support, widely followed by Wall Street traders and investors. This continuing series of articles from my quantitative sorting findings focuses on companies whose short-term upward price trends are intersecting with higher than normal trading volume, particularly compared to the last months of activity. Up to 15 other momentum indicators help narrow each list to stocks where the chances of additional price gains seem likely. To some extent, VBR's weekly stories are a kind of journal for my research into small and mid cap picks, with new picks and commentary on past picks. For more information and context on what I do, please read my previous posts, starting with the July 9 effort linked here.
The performance of the top 15 picks over the past 4 weeks hasn't been very exciting. As a group, they have underperformed the minor returns of +2% S&P 500 and +1% Russell 2000 since late June. Apart from -15% losses in Cyanotech (CYAN) and Li-Auto (LI), the other 13 came close to market returns. But, including the two losers, the gains are just above break-even. I personally sold my small CYAN trading position for a slight gain over $3, with the intention of buying back the stake eventually. [I have traded in and out of CYAN 4 or 5 times since my first full-length article in March here on this algae farmer and supplement maker in Hawaii.]
Missed opportunity
I wouldn't call any of the picks a mistake at this point, as price swings of 10-15% are quite common in small and micro cap stocks on Wall Street. However, I would like to discuss a mistake I made, which revolves around a choice I chose NOT to highlight several weeks ago. For my polished small-cap dart-throwing system to work for investors, losses need to be kept to a minimum, while big winners need to run a little. A critical part of deciding my VBR picks is that I steer clear of companies without much underlying fundamental operating value, or those with less attractive long-term prospects. This means that I only expose readers to about half of my mathematically derived technical trading formula results, those with the strongest fundamentals, subjectively in my opinion using over 35 years of trading experience/ investment.
One stock I debated to include in the VBR list was Target hospitality (TH) about $7 per share. This manufacturer and tenant of temporary housing, primarily for the oil and gas industry, announced out of the blue that business sales for 2022 were going to be 50% higher than previous forecasts, alongside a considerable improvement in revenues. After looking at the company's balance sheet and past cyclical swings, I thought the stock would rise next week by another 20% or 30% from the VBR signal, but that would spike for a while. My protective feeling was that I didn't want readers to find the company a week after publication and buy at the top price.
Of course, as you can see from the chart, the price of TH has exploded higher than expected and has indeed been attracting investor interest for weeks. Had I included that name, a near instant 60% return over 2 weeks could have been included in my performance calculations. Again, not only did I not let this winner run, but I even failed to put the buy idea into my VBR article on July 9th (using the close of $7.61 on Friday, July 8, the green arrow below). If Target Hospitality had been included, the group of 16 initial picks would have significantly "outperformed" market averages by +2%. So in the future I will include additional stocks with fundamentals that I may not fully understand, and let readers decide for themselves whether one or the other fits their specific trading needs. portfolio building.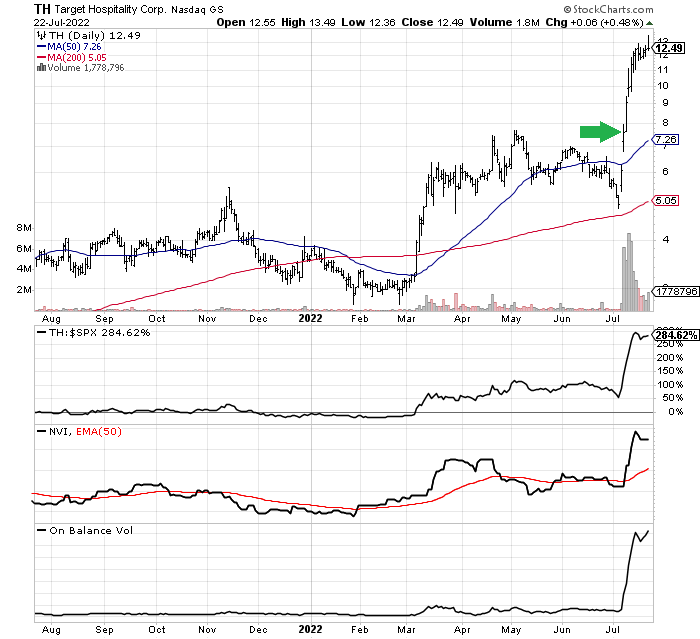 New VBR buy signals
JAKKS Pacific
JAKKS Pacific (JAKK) is a small toy manufacturer/reseller, with sales of $658 million and a current market capitalization of $160 million. Action figures, costumes, dolls and games usually linked to the launch of blockbuster movies, many of which waltz disney (DIS), are the main objective of the company.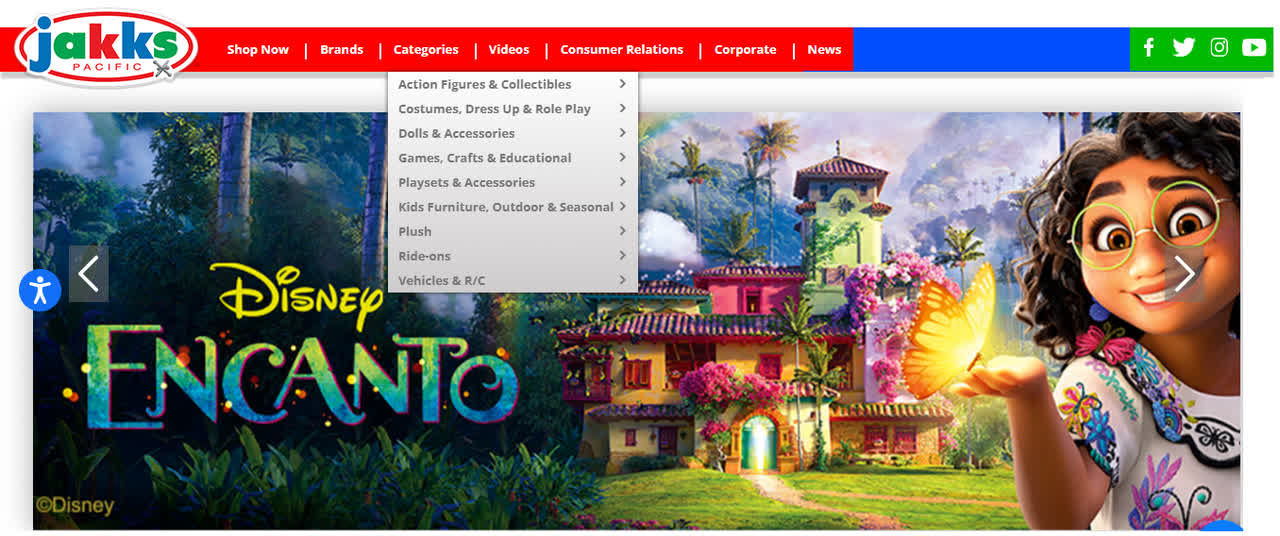 A strong US dollar in currency trading makes imported toys cheaper for US consumers (manufactured in China and Hong Kong for JAKKS). The vast majority of corporate revenue is generated around the Christmas sales season, but the past two quarters have far exceeded analysts' expectations with results flat against expected losses. The company has been in the best financial shape in terms of balance sheet health since 2016 and is trading at a low 6x forecast earnings for 2022. The stock market listing hits its highest level since 2018.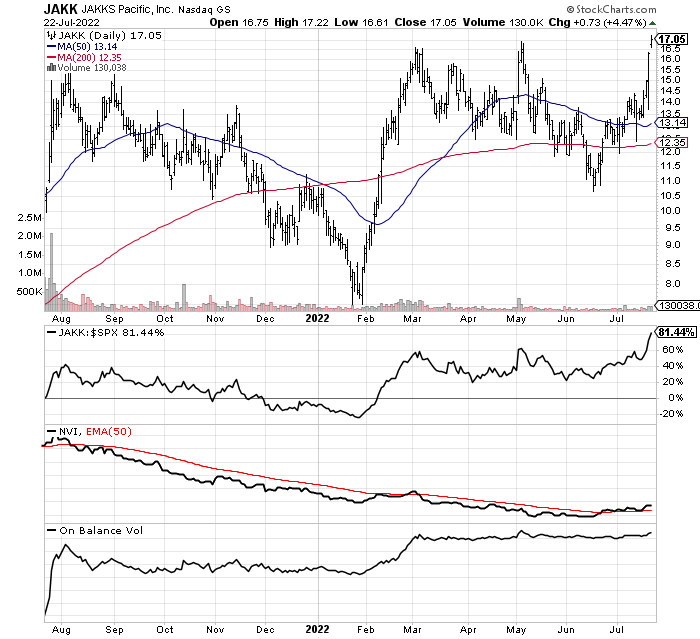 CECO Environment
An ESG pick which markets water and air purification products, CECO Environment (CECE) announced in early May a major share buyback program for around 10% of the float in circulation. From this point On balance volume the statistics exploded. The stock quote rose from the mid-$5 range to over $7, despite a huge pullback in the U.S. stock market as a whole. Steady EPS growth is predicted through 2024 by Wall Street analysts.

I would rate the balance sheet as respectable with current assets such as cash, inventory and receivables covering almost the total liabilities. My guess is that future stock price moves will follow the growth or lack thereof in operating profit through the remainder of 2022. I have no particular insight into how sales trends are changing for CECO in June July. If the share buyback has anything to do with management expecting a big increase in operating profits next year, the stock price should continue to outperform.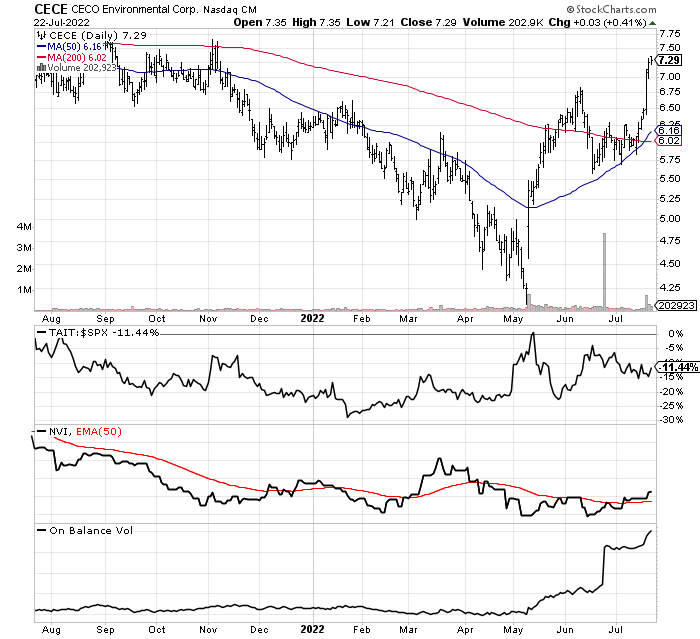 Taitron Components
A small distributor of electronic components and semiconductors that has seen steady buying interest in shares since late April is Taitron Components (TAIT). The balance sheet is top-notch, with $6 million in cash and $13 million in net working capital against a market capitalization of just $20 million. A dividend yield of 5% per annum is available for new buyers. The company reached a new era of profitability during the global chip supply shortages of 2020-22. TAIT's stock price has tripled since 2018, but is still trading at 6x trailing EPS on an accounting change. Forward P/Es are likely between 10x and 15x.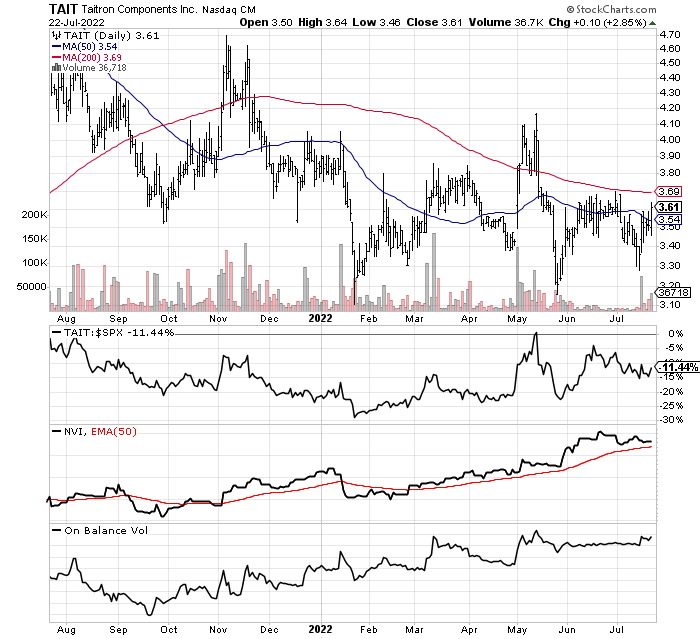 Immatics S.A.
If you're looking for exposure to a small biotech with big growth potential in breakthrough cancer treatments, the German company Immatics S.A. (IMTX) is worth a look. On Tuesday, 4x normal volume appeared with no real news that I could find, as the price jumped 17% during the day.
In June, the company announced a new partnership with Bristol Myers Squibb (BMY) for some of its products under development. IMTX will receive $60 million upfront with the potential to earn several hundred million over time. The company has also signed a license agreement with Editas Medicine (EDIT) in June. The agreement combines Editas' gene-editing technology with the ready-to-use Immatics ACTallo allogeneic cell therapy platform.
At the end of March, Immatics held $279 million in cash against $184 million in total liabilities. The total market value is approximately $650 million for shareholders. To note: research biotech companies are highly volatile and may not be suitable for all investors.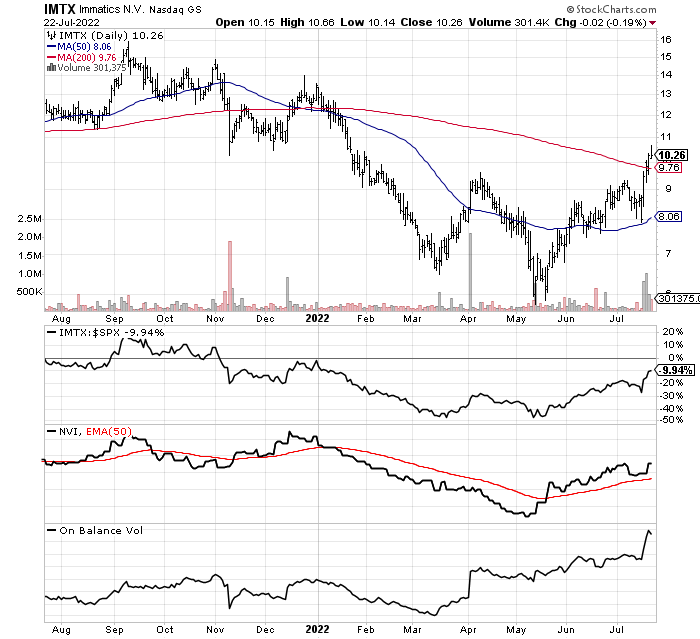 Final Thoughts
I remain capricious and cautious about the general direction of the market in the coming weeks. Combined material weakness in bank/brokerage stocks and gold/silver mining stocks is rare and typically occurs during liquidity crises in the US financial system. Assuming the Federal Reserve raises bank interest rates by 0.75% this week, liquidity will be further tightened in the coming weeks. I think another 10-20% drop could hit major US equity averages soon, although I'd rather be wrong about that forecast.
I remain convinced that the VBR list is a great tool for looking for future small cap outperformers in the coming months. When the market turns from bearish to bullish, we should see the utility and advantage of owning small cap winners under more normal trading circumstances. Patience will be key, as will tempered (realistic) expectations that future stock market gains are destined to be well below the outlier 2020-21 bull run.
I suggest readers take the time to do more in-depth research on any of the Volume Breakout Report selections that interest you, based on your risk appetite or sector exposure needs in portfolio construction. . Please understand that small cap selections should be a limited part of portfolio design. Holding a diverse number of stocks (at least 20-30) is the prudent, risk-adjusted way to play them. Volatile price swings are part of the Wall Street small business investment process. Please consider using pre-placed stop-loss sell orders to reduce the downside potential of individual names. Depending on your risk tolerance, stop levels of 10% to 30% are recommended.
Thanks for reading. Please consider this article as a first step in your due diligence process. It is recommended to consult a registered and experienced investment adviser before carrying out any transaction.